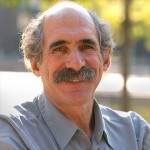 Occupation
Albert G. Milbank Professor of Geosciences and International Affairs in the Woodrow Wilson School and the Department of Geosciences at Princeton University
Education
S.B. in Chemistry – M.I.T.
Ph.D. in Chemical Physics – University of Chicago
Post-doctoral research at the Harvard-Smithsonian Center for Astrophysics
Why Michael Oppenheimer, Ph.D. Is Involved
The general thing about climate change is it increases the likelihoods of many types of extremes. It increases the likelihood of heavier rain of really intense storms like hurricanes.  It increases the intensity of drought in some areas.  And most of all, it increases the frequency of very high heat waves.  You have to remember, heat waves kill even in this part of the world.  So if you look at the kinds of things that cause us trouble from the weather now, many of those things are just going to get worse in the future.  And frankly, we stink at managing these extremes now.
Bio
Michael Oppenheimer's interests include science and policy of the atmosphere, particularly climate change and its impacts. Much of his research aims to understand the potential for "dangerous" outcomes of increasing levels of greenhouse gases by exploring the effects of global warming on the ice sheets and sea level, on the risk from coastal storms,and on patterns of human migration. He also studies the process of scientific learning and scientific assessments and their role in problems of global change.
Climate Careers
Chemists study substances at the atomic and molecular levels and the ways in which substances react with each other. They use their knowledge to develop new and improved products, to better understand earth systems, and to test the quality of manufactured goods.
Emergency managers prepare plans and procedures for responding to natural disasters or other emergencies. They also lead the response during and after emergencies, often coordinating with fire and law enforcement officials, elected officials, nonprofit organizations, and government agencies.
Physicists study the ways in which various forms of matter and energy interact. They explore the fundamental properties and laws that govern space, time, energy and matter.